Every year 1.3 billion tons of food, a third of everything produced, is never consumed. It is wasted or lost in the supply chain. Moisture damage plays a major part in this. Destroying not just products, but manufacturer finances and reputations too.


Issue
Every day, a major pasta maufacturer produces 1000 tons of dried pasta, 35 tons of fresh pasta and 60 tons of biscuits, which they export in 20ft and 40 ft containers worldwide. When they talked to us, they had a major problem. Despite using desiccants, 25% of their shipments were suffering from moisture damage. Complaints were reaching peak values of €1500 – an unsustainable situation.
Solution
Cordstrap Moisture Control experts Bas Lenssen and Roberto Barrata visited the customer to investigate. They were using 20 pieces of 2kg clay and calcium chloride desiccants per 40 ft container. However, they were suffering rejections due to wet boxes. It was clear that levels of humidity were too high and that cargoes were suffering from container rain.
Our new desiccant innovation, Cordstrap Moisture Control, provided the key. Our product range consists of the latest calcium chloride and starch technology and delivers the best absorption available on the market. High performing Tyvek© technology in outer bags guarantees they are tear resistant and leak proof. This all allows moisture control products to be placed directly on top of boxes, providing full flexibility in the application. The Cordstrap team delivered a proposal to eliminate container rain and sweating damage, while delivering a major reduction in humidity levels.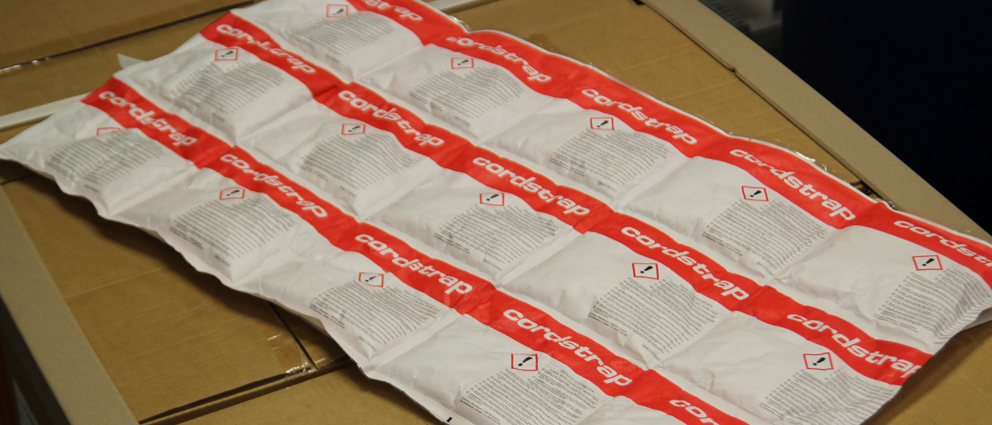 Results
Using our bespoke Moisture Control Dimensioning Tool, the team demonstrated that the new Cordstrap Dry Blanket would achieve these goals – while using a maximum of four desiccants per container rather than the previous twenty!


The customer is now undertaking a major test of the Cordstrap Dry solution. A shipment has made a 61-day journey between the port of Gioia Tauro in Italy and Busan container port in South Korea. Moisture Control is now being implemented on shipments to Hong Kong.
If successful, these tests will validate Cordstrap's predictions that using the new solution will reduce their exposure to moisture damage by an amazing 80% - and also deliver annual cost savings of 17%.
To learn more about Cordstrap Moisture Control, the newest addition to our cargo protection solutions, contact your local Cargo protection Engineer today.